Men's business attire keeps on evolving; what you see them wearing in the present has a stark difference from what they wore in the past. Professional attire today has become more casual than the traditional suit and tie in the earlier days. Introducing a more casual style allows people to freely express themselves and break the restraints. Be that as it may, allowing a more casual style in your work environment is also a gateway for some people to dress up without any effort and probably make a complete fool of themselves.
In your office, it's very important to put some thought and effort into dressing up because it creates a long-lasting impression in the minds of people you meet every day. From taking someone's interview to giving a presentation, dressing impeccably is of utmost importance. It reflects how much importance you give to your career and your future. If you're looking forward to creating a long-lasting impression on the minds of people you meet in your office through your clothes, then you've come to the right place.
This article will show you an insight into how a modern man should dress, according to professionals. However, before we begin expounding the grooming tips you need to understand, that to create an indelible impression and personality, you don't have to buy expensive clothing. You can invest in some of the best pieces of clothing with less money. All you need to do is develop some style.
Different Styles A Modern Man Should Dress, According To Professionals
There are mainly five different styles for fashionable dressing for men or as some like to call, essential dress codes for men. They are:
Business professional style
Smart casual style
Cocktail attire style
Business casual style
Casual style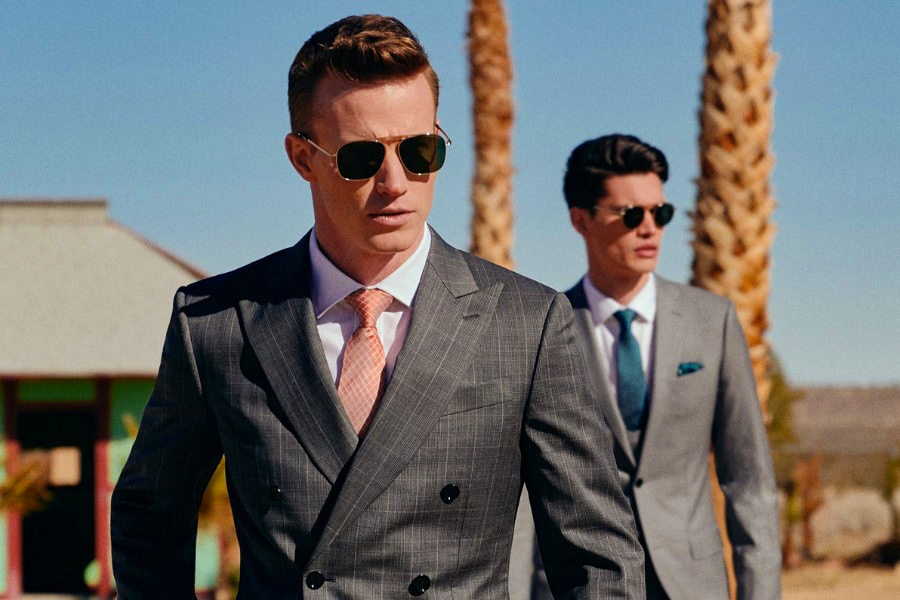 The Business Professional Men Dress Code
When it comes to a business professional dress for men ideas, it follows a predetermined set of rules and principles that are universally accepted. This style helps in making your colleagues know that you're ambitious, smart and hard-working. Unlike business casual style or casual style, business professional dress is a bit difficult to master as it largely focuses upon details such as the quality, fit and the cut of your fabric. In addition, the business professional style is also much about how you wear your shoes. Whether they are neatly polished or not? Are you able to pull off the entire look altogether? Or is there something missing?
Here are some pointers that you can keep in mind if you want to pull off the business professional look:
Button-up collared shirts
When it comes to selecting your shirts, make sure that you stick to the classic shades such as white or pastel. Don't try to experiment with vibrant colors with this one. Remember that the shirts you choose are simple and have collars.
A professional suit
Having a business suit is one of the integral parts of a business professional men's dress code. If you want to wear a business suit to your workplace, it is important to buy two or three of them in different colors. When it comes to how a modern man should dress, according to professionals, it is better to wear your first suit which has a plain dark navy color. It is one of the most simple yet effective colors that will surely make an impression.
Recommended reading: 5 Suit Mistakes Most Men Make
Be more subtle with your tie
Now, this is one of the most significant ideas among professional dress among men. Wearing a tie that corresponds to the color of your suit changes your entire look and makes you stand out from the crowd.
Be very careful while choosing your shoes
Shoes are the most important part of your overall attire. They can ruin your look or can also make it a huge success. If you are willing to create an indelible impression at your office, then start wearing Oxford shoes because these are commonly considered business shoes.
Accessorizing is important
Wearing an outfit and pairing it with shoes is not enough. Accessorizing is also very important because it adds life to your outfit. Sometimes, you may feel that the entire outfit is proper but something is missing in it. Check your accessories and you may find something wrong with them. As people say, life is in detail. So make sure that you pay enough attention to these small details.
Latest Fashion Ideas for Men
These fashion ideas are more like fashion style rules that a man needs to follow to create a confident and powerful professional presence at work. These rules and ideas will make you more approachable and elevate your class.
Focus on timeless clothing
This is one of the important fashion ideas that you need to keep in mind. When it comes to choosing a professional dress for men, it is important to focus and vest on timeless apparel of the best quality that you can afford. Wearing a suit that is in trend at the moment, may make you seem woke or maybe fashionable at that moment. But in the long run, when the trend is not prevalent anymore, you might wonder what to do with your suit. So, be prudent and focus on investing in timeless clothing only.
Buying as many professional or business clothes as you can buy for yourself is not very prudent. It will only stuff or overcrowd your wardrobe, leaving no or very little space for something effective and timeless. Therefore, make sure that you follow the minimalistic and simple principle. This will help you to be more organized with your clothes and your wardrobe.
Pay extra attention to your grooming habits
More often than not, men develop this nonchalant and careless attitude where they do not bother dressing up or even trying to look decent. Well, this attitude will only get you fired and do you no good.
So, it's important to take care and pay extra attention to what you wear and how you wear it. Your clothes reveal a lot about your personality and how serious you are about your life. It also determines how you'll be treated by people in the office once you get in. So, make sure that you take some time out of your schedule to dress properly. These are some of the simple yet very effective fashion ideas when it comes to how a modern man should dress, according to professionals. Keep them in mind while you're dressing up for your job or anywhere you go.
Also Read: How To Style Your Clothes According To Your Skin Tone?