Siddharth Batra, one of the most popular influencers and content creators on the internet, is popular for making fashion and makeup-related content. Siddharth Batra's fashion advice is challenging societal norms like never before. He believes in gender-neutral fashion and promotes the same on social media. When it comes to men's fashion and cosmetics, this Delhi-based creator is continuously experimenting with the latest looks and techniques. Well, Siddharth is a huge name on social media. With time, his aroma is becoming bigger and better. It indeed shows his class of making a name in style. Siddharth Batra's fashion advice is challenging societal norms every day by bashing the toxic patriarchy and stereotypes. Let's see how he does it.
Siddharth Batra's Fashion Advice is Challenging Societal Norms feat. Instagram Reels
Let us look at how Siddharth Batra is challenging societal norms:
1. Nailing the Creativity
Siddharth Batra's creativity is not something that is new to the fashion world. He has received a lot of appreciation from his fellow creators and audience for breaking gender norms with creativity. Siddharth Batra's fashion advice is challenging societal norms and has been doing it for a while. He is well-known for rejecting fashion stereotypes, and his fans adore him for it. When it comes to creativity, he takes a very firm stance. He is the type of guy who can pull off any attire like a pro. He has a strong social media engagement, and his reels are popular among the youth. He is someone who makes his transitional videos look smooth like butter.
2. Playing Dress Up
There are many reels on Instagram that show how magical his dress-up game is. Perhaps you will simply lose track of the number of different outfits that are featured in his reels. He appears to be stunning, intelligent, handsome, and quirky all at the same time. He knows how to dress in a variety of styles, from the most recent to the most classic. Siddharth also includes his mother, father, and other members of his family in his videos because he is a close-knit family man.
Also read: Winter Fashion Essentials for Men
3. Gender-Neutral Fashion
Fashion is becoming increasingly gender-neutral with each passing day, with no garment being associated with a specific gender any longer. Siddharth Batra's fashion tips demonstrate the same point. Fashion for him is a means of expressing his individuality, and there is no classification of what a man can or cannot wear that prevents him from expressing himself.
4. Making Up is Not Just for Girls
This is how Siddharth shows that there is no limit to how manly a man can be. Another thing to keep in mind is that wearing makeup or your girlfriend's clothes will not make you less masculine in any way. It shows that clothes do not have genders and that it is up to each person to decide what they want to wear. His style depicts the same. In order to show the world who they are, Siddharth wants his followers to show off their true selves through their clothing choices. Whether he is wearing leather jackets or crop-tops, wearing statement necklaces, or painting his nails, the ease with which he carries himself is very inspiring.
5. The Couple Slays it Together
Siddharth Batra's fashion tips break the internet. Sid is unquestionably amazing. The manner in which he conducts himself in India, a country where there are many stereotypical male viewpoints, is truly an inspiration to replicate. However, he is not alone. It is something he does with his girlfriend, Komal Pandey. A household name in the Indian fashion industry, Komal Pandey is one of the most well-known creators in the country. Her Instagram posts have made her a big star. She has millions of followers on Instagram, and she exudes a colorful aroma that is sure to inspire many. Siddharth Batra produces a large number of reels with his girlfriend, and the two of them are well-known for challenging stereotypes. As Komal has created numerous reels in which she has dressed in his clothes. Siddharth Batra's fashion advice is challenging societal norms by styling her saree on himself. It is mind-boggling how flexible their fashion sense is.
Also read: Unisex Fashion
Siddharth Batra's Fashion Tips
Here are the fashion tips of Siddharth Batra that one must follow:
1. Must Have Makeup Products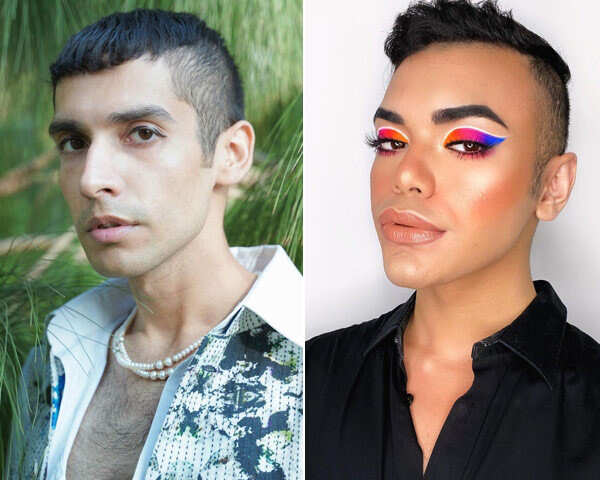 A basic makeup kit should include the following items: a beauty blender, a concealer, primer, foundation, BB cream, color corrector for acne, and a spoolie brush for defining the brows. As far as everyday makeup goes, a highlighter and a small amount of blush look fantastic, as they give the appearance of flushed, rosy skin on the face. If you are not sure what shade of makeup to wear, seek advice from people who are familiar with makeup.
2. Simple Yet Classy
He believes it is very basic. You simply need to update your staples. You do not even need to go overboard. Just add an accessory and introduce some color; that is literally all there is to it.
3. You can Keep it Funky
Siddharth Batra's Instagram is a reflection of his dynamic fashion statement, as he chose to experiment with colors such as pink, yellow, red, white, and blue. Therefore, try to keep it funky, and you won't regret it.
Also read: Top Male Fashion Influencers
Takeaway
Siddharth Batra is one of those amazing influencers who are actually influencing the youth. He does not believe in maintaining stereotypes and keeps his fashion as he likes it. Siddharth Batra's fashion advice is challenging societal norms, and therefore it is important to support such creators. Follow Siddharth Batra's fashion tips and ace the fashion and beauty game.
Frequently Asked Questions
Q. Are Siddharth Batra's fashion tips practical?
A. Siddharth Batra's fashion tips are definitely practical. However, people often criticize him for his fashion sense. This is because it is new. It takes a lot of time to break a certain stereotype or notion. For example, remember when a crop top was such a big deal for girls? But now, it is as normal as any other outfit. In the same way, people are evolving, and it will definitely change for the better.
Q. Is Siddharth Batra married?
A. No, he is not married. However, he is in a relationship with Komal Pandey.
Also read: Ultimate Men's Fashion Guide